New Orleans School of Cooking Chefs Harriet Robin and Anne Leonhard star as judges on NBC/Peacock's premiere season of BAKING IT hosted by Maya Rudolph and Andy Samberg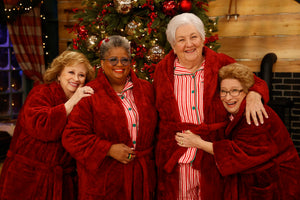 On the right, New Orleans School of Cooking Chefs Anne Leonhard and Harriet Robin as judges on Peacock's BAKING IT with their co-judges (Credit: Jordin Althaus/NBC)
Featuring the "New Orleans Grannies," Peacock's New Comedic Cooking Competition Show BAKING IT Airs 7 p.m. Friday and Streams Today
From the creators of "Making It," Amy Poehler and Nicolle Yaron, comes BAKING IT, a holiday cooking competition series where eight teams of two talented home bakers join Maya Rudolph and Andy Samberg in their winter cabin to compete with their most delectable savory and sweet edible creations with the hopes of winning a cash prize of $50,000. Maya and Andy lead the festivities and themed challenges, while providing comedic and musical commentary on the action.
Maya Rudolph & Andy Samberg sing the theme song to BAKING IT
Most importantly, the bakers' holiday treats are judged by tough critics – four opinionated, real-life grandmothers, who happen to be fantastic bakers themselves!
New Orleans School of Cooking Chefs Anne Leonhard and Harriet Robin serve as two of the four judges on BAKING IT. Between these two lifelong friends, they have nearly 100 years of cooking experience and are co-authors of the cookbook "Across the Table." Teaching weekly classes at the New Orleans School of Cooking has provided Anne and Harriet with the opportunity to share their love of New Orleans cuisine and history with thousands of visitors from around the globe.
Meet the Grannies of BAKING IT
Anne and Harriet are no strangers to television appearances. They cook monthly on the WWLTV morning show, have appeared on the Steve Harvey Show where they were coined the "New Orleans Grannies," and in 2015, Anne won Food Network's "Clash of the Grandmas."
(Credit: Jordin Althaus/NBC)
"If you love Maya, Andy, Grannies, Baking, Cash Prizes and the Holidays, then this is the show for you," says executive producer Amy Poehler. Additionally, executive producers Nicolle Yaron and Pip Wells say "'Baking It' celebrates everything we love about the holidays; friends, family, incredible food -- and grandmothers pointing out everything we do wrong in the kitchen." 
All six-episodes are available to stream today, Thursday, December 2, and will air tomorrow, Friday, December 3, at 7 p.m. central.