Bananas Foster Recipe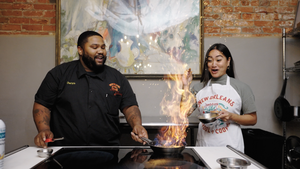 Invented in New Orleans: The History of Bananas Foster
In 1951, when the Brennan restaurant operation consisted only of Brennan's Vieux Carre on Bourbon Street, Owen Brennan asked his sister Ella to come up with a fancy new dessert for a dinner that night honoring Richard Foster for being named chairman of the New Orleans Crime Commission. An already-overworked Ella Brennan gathered her chef, Paul Blange, and headwaiter in the kitchen to help her dream up the new dessert. Scanning the kitchen and spying bananas, she thought of a simple dessert her mother had made by splitting the yellow fruit and sautéing the halves with butter and brown sugar. To jazz it up, she said in her memoir, they poured rum and banana liqueur on top, setting the mixture on fire at tableside, tossing in cinnamon to make it sparkle and serving the concoction over vanilla ice cream. They called it "Bananas Foster."
Bananas Foster Recipe
The bananas are cooked in a bubbling pan of dark brown sugar, butter, rum, banana liquor, and cinnamon and served over ice cream in this deliciously simple–yet elegant–dessert.
Prep Time: 5 minutes
Cook Time: 10 minutes
Ready In: 15 minutes
Yield: 4 servings
Ingredients
¼ lb. butter
½ lb. dark brown sugar (1 cup)
2 bananas
2 ounces banana liqueur
4 ounces dark rum
Ground cinnamon
Ice cream
Procedure
Melt butter and add brown sugar to form a creamy paste. Let this mixture caramelize over medium heat for approximately 5 minutes.
Stir in the banana liqueur, creating a syrup.
Add bananas.
Add rum in spoon. Leave in pan to heat. (Caution: Do not pour directly from the bottle.)
Raise out of skillet and add more rum to the skillet.
Ignite rum in spoon and lower into the mixture.
Agitate to keep flame burning, and add a few pinches of voodoo magic (cinnamon) to the flame.
Let flame go out and serve over ice cream.
Optional: Serve with crepes and ice cream for bananas foster crepes.