New Orleans School of Cooking's Traditional New Orleans Praline Recipe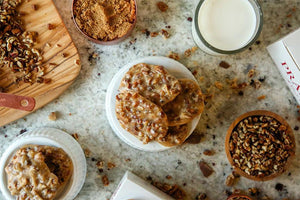 What are pralines?
In a nut shell, pralines (pronounced like praa-leen, and never pray-leen) are our signature sweet in New Orleans. So much so that on June 24th, we celebrate National Praline Day each year. Traditionally made with sugar, pecans, butter, milk and vanilla, pralines melt in your mouth and make an excellent gift to take home with you or sweet treat at a party.
The History of the New Orleans Praline
Creole confections occupy a unique position in the United States; the most popular of these is the praline. Pralines derive their name from the famous French field marshal Comte du Plessis Praslin (1598-1675), and their generic beginning from his butler's recipe for almonds coated and dipped in sugar, used as a digestive aid. When Louisiana was settled by French colonists, native pecans were substituted for almonds of the mother country and the sugar cane.
No lengths were spared by the Creoles to achieve perfection in candy making. Along with their vast collection of Creole recipes, each cook had their own secret method for making the best pralines, which they guarded carefully and handed down from generation to generation by word of mouth.
Today, pralines are as many and varied as they were in the very beginning of their development. For a truly American treat, pralines are a natural choice. And we hope your memories of New Orleans are as sweet as pralines!
New Orleans School of Cooking All-Natural Original Pralines
Made fresh daily, our pralines are handcrafted in the New Orleans School of Cooking kitchen in the French Quarter using this same recipe. We also teach participants of our hands-on, demonstration and zoom New Orleans cooking classes how to make fresh pralines.
And if you just have to have them now, we understand. You can purchase our All-Natural Original Pralines on our online store or from our Louisiana General Store located at 524 St Louis Street in the French Quarter, where we also sell our chocolate pralines!
Check out our New Orleans School of Cooking Praline Recipe Towel, which makes a fun gift for any sweet tooth confectionist.
Traditional New Orleans Praline Recipe
Makes 1-50 pralines, depending on size.
Ingredients
1½ cups of Sugar
¾ cups of Light Brown Sugar, Packed
½ cup of Milk
6 tablespoons of Butter (¾ of a stick)
1½ cups Pecans (roasted optional)
1 teaspoon of Vanilla
Tools
Medium Saucepan
Waxed Paper, or Parchment Paper
Procedure
Combine all ingredients in a medium saucepan and bring to a boil achieving "softball stage" (238-240°), stirring constantly. Remove from heat. Stir until mixture thickens and becomes creamy and cloudy, and pecans stay suspended in the mixture. Spoon out on buttered waxed paper or parchment paper. When using waxed paper, be sure to buffer with newspaper underneath, as hot wax will transfer to whatever is underneath.
NOTES: To roast pecans, bake them on a sheet pan at 275° for 20-25 minutes, until slightly browned and fragrant. We recommend that you eat them when fresh and store them at room temperature as the sugar begins to granulate after a few days.
OPTIONS: Praline sauce (add 1/2 cup corn syrup to mixture.) Chocolate covered praline candy. Flavored pralines (chocolate, coffee, brandy, etc.)